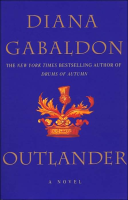 Outlander, by Diana Gabaldon
Discussed on Thursday, December 3rd, 2009 at 6:30pm
Claire Randall is leading a double life. She has a husband in one century, and a lover in another.
In 1945, Claire Randall, a former combat nurse, is back from the war and reunited with her husband on a second honeymoon, when she innocently touches a boulder in one of the ancient stone circles that dot the British Isles.
Suddenly she is a Sassenach, an "outlander", in a Scotland torn by war and raiding border clans in the year of our Lord 1743. Claire's destiny is soon inextricably intertwined with Clan MacKenzie and the forbidden Castle Leoch. She is catapulted without warning into the intrigues of lairds and spies that may threaten her life and shatter her heart.
Those who participate this time will receive a copy of the book to keep. Thanks to Deb Jeffers for arranging this.