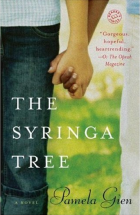 The Syringa Tree, by Pamela Gien
Discussed on Thursday, January 14th, 2010 at 6:30pm
Even at the age of six, lively, inquisitive Elizabeth Grace senses she's a child of privilege, a "lucky fish". Soothing her worries by raiding the sugar box, she scampers up into the sheltering arms of the lilac-blooming syringa tree growing behind the family's suburban Johannesburg home.
Lizzie's closest ally and greatest love is her Xhosa nanny, Salamina. Deeper and more elemental than any traditional friendship, their fierce devotion to each other is charged and complicated by domestic stresses and by the violence, injustice, and intoxicating beauty of their country.
In the social and racial upheavals of the 1960s, Lizzie's eyes open to the terror and inhumanity that paralyze all the nation's cultures. Pass laws and stringent curfews have briefly created an orderly state, but an anxious one. Lizzie's home harbors its own set of rules, with hushed midnight gatherings, clandestine transactions, and the girl's special task of protecting Salamina's secret newborn child.