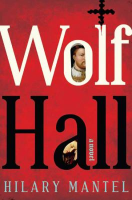 Wolf Hall, by Hilary Mantel
Discussed on Thursday, May 6th, 2010 at 6:30pm
In the ruthless arena of King Henry VIII's court, only one man dares to gamble his life to win the king's favor and ascend to the heights of political power. England is a heartbeat from disaster: if the king dies without a male heir, the country could be destroyed by civil war. Henry VIII wants to annul his marriage of twenty years and marry Anne Boleyn. The pope and most of Europe opposes him.
Into this impasse steps Thomas Cromwell, a wholly original man, a charmer and a bully, both idealist and opportunist, astute in reading people and a demon of energy: he is also a consummate politician, hardened by his personal losses, implacable in his ambition.
But Henry is volatile: one day tender, one day murderous. Cromwell helps him break the opposition, but what will be the price of his triumph? In inimitable style, Hilary Mantel presents a picture of a half-made society on the cusp of change, where individuals fight or embrace their fate with passion and courage, an era when the personal and political are separated by a hairbreadth, where success brings unlimited power but a single failure means death.