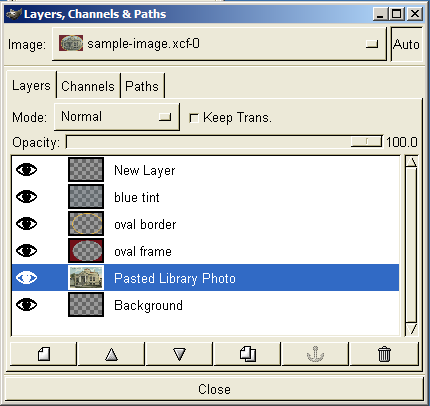 Layers, Channels, & Paths
The Layers, Channels, & Paths window takes some getting used to, but it's really useful once you get the hang of it. For now, don't worry about channels and paths: layers will be enough to learn at first.
If you don't see this window, pull down your toolbox window's File menu and look under Dialogs for Layers, Channels, & Paths.
Layers are just what they sound like: your image can be drawn in layers, one over another. Wherever a layer is transparent or partly transparent, the layers underneath show through.
Layers are really convenient for certain things. You can draw on one layer without changing the others, so if you decide that the bird you're drawing would look better in front of a different part of the background, you can just slide it over, and the background behind the bird is still there. Whichever layer you select in the Layers, Channels, & Paths window is the one you'll be working with in the image window. If you want to see what the image looks like without a certain layer, click the eye beside that layer to make it invisible. You can change it back to visible later.
You can also change the order of the layers, moving them under or over one another. Select a layer and click the up and down arrow buttons. You can put the bird behind the tree, or in front of it. Maybe you want the bird behind the one branch, but in front of the rest of the tree...
If you find that you need a new layer to draw on, click on the New Layer button (the one on the left that looks like a blank page).
If you decide that you want to combine two layers into one, you can. Right-click on a layer and choose Merge Down, and it will be joined with the layer directly beneath it. Once you start editing the new combined layer though, it can be hard to reseparate them later.
When you save an image, your layers are only preserved if you save in a format that supports them. In general, it's best to save your images in .xcf format, so that you can easily edit them more later. If you also need the image in another format (such as .bmp or .png or .gif), use Save As to create a copy, but if you have any more editing to do, open the .xcf version and edit that.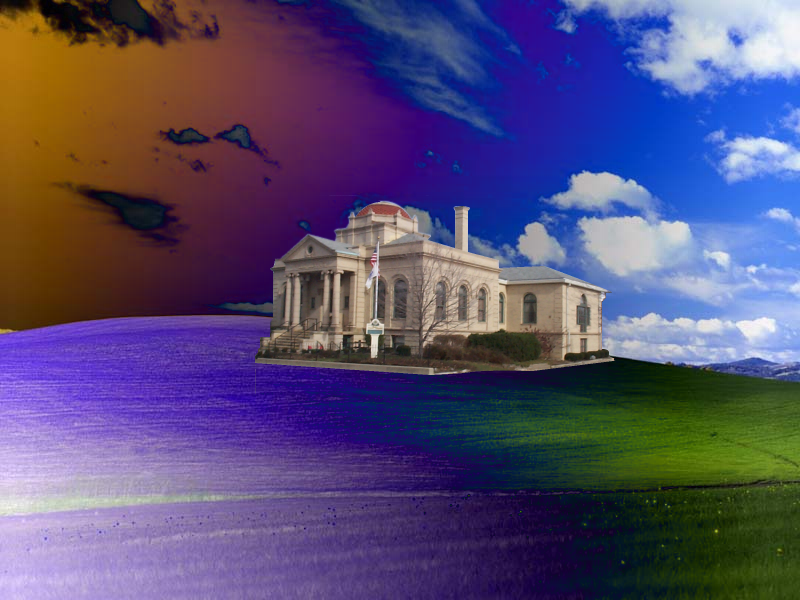 When you get really comfortable with layers, you can achieve just exactly the image you want. Even those of us without graphic arts training can do amazing things with the Gimp and a little patience.
Tip: the library has a book on using the Gimp, called Visual Quickstart Guide: The Gimp for Linux and Unix.

It's shelved at 006.6 D 29. Ask a librarian to help you find this book. The book talks about using the Gimp on Unix, but you will find that just about everything is exactly the same under Windows. There is also information on the web at www.gimp.org